Clean better and faster with RYOBI 12" Surface Cleaner. This time-saving attachment connects easily to a 1/4" quick connect spray wand transforming your pressure washer into an efficient surface cleaning machine. Whether you're cleaning your deck, patio, driveway or poolside, this attachment is a must-have for anyone who wants spend less time cleaning and more time enjoying the great outdoors. This surface cleaner features a ¼" Quick Connect Coupler, Dual Rotating High Pressure Water Jets, and 2000 PSI for powerful and streak-free cleaning.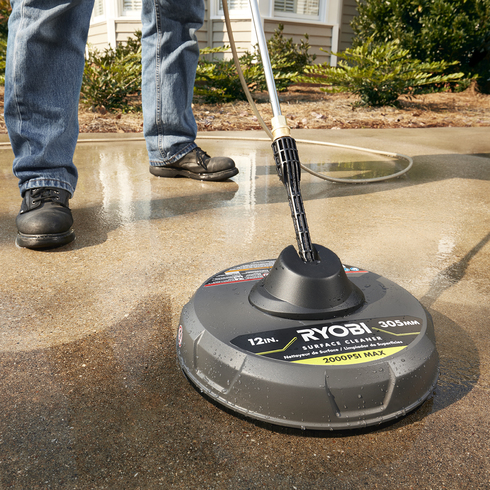 Cleans driveways, sidewalks, pool sides, decks and other large horizontal surfaces
Ideal for electric pressure washers up to 2000 PSI
Dual Rotating High Pressure Water Jets
Easily Attaches to 1/4" Quick Connect Spray Wand
Deck Size: 12"
PSI: Up to 2000 PSI
Flow Rate: Up to 1.4 GPM
Attachment: ¼" Quick Connect
Includes: Surface Cleaner and Operator's Manual
12 in. Surface Cleaner Attachment - Model ry31094
For your RYOBI Outdoor Tool replacement part needs, simply click the following link to access replacement parts schematics, as well as, on-line parts ordering through the RYOBI master parts distributor.
For those customers that prefer ordering by phone, simply contact the RYOBI master parts distributor at 1-877-545-4110, and place your order over the phone.
If you prefer to order online please click the link below. Please note that all prices are in USD and will be converted to CAD by your credit card company at the exchange rate set by your financial institution.
VISIT PARTS STORE
---